Set Your Finances on the Course to Excellent Health with IMA360
Innovation in the Pharma and Biotech industry has reached unprecedented levels. Amid this progress, the scrutiny over rising costs is intensifying, and demands for transparency and accountability are on the rise.
Navigating the complex transactions that occur before a drug reaches the end consumer involves various critical parties, each playing a crucial role. Trust IMA360 to steer your finances towards excellent health amidst this dynamic landscape.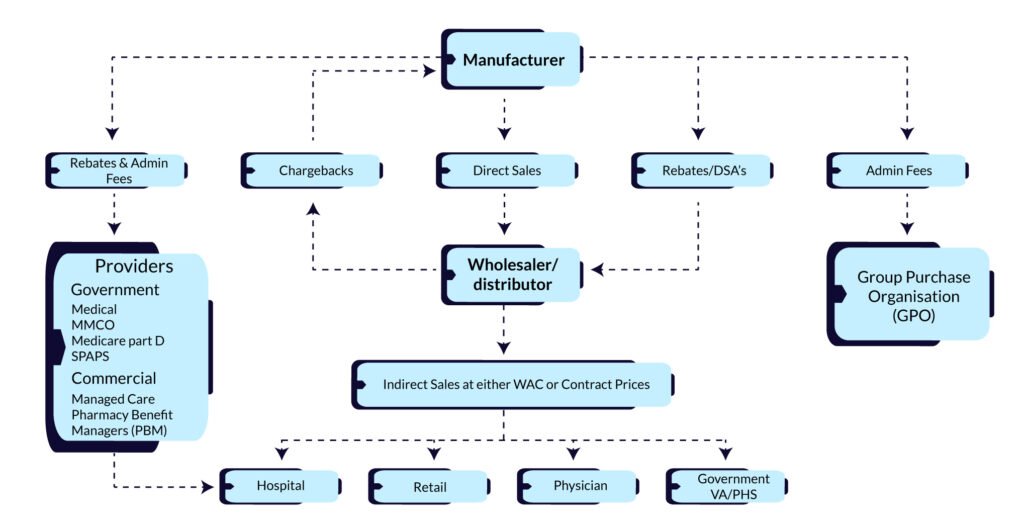 Compliance Made Simple: Government Pricing
Ensure seamless compliance with key regulations, including Medicaid Drug Rebate (AMP and Best Price – Medicaid Claims), FSS Contract Pricing, Federal and State Programs, and State price transparency reporting.
Automate the process to streamline your government pricing obligations, allowing you to focus on core business operations with peace of mind.
Distributor Rebate Management
Efficiently handle various rebates, such as Fee for Service, Channel Performance, and Price Protection.
Automate the entire chargebacks process seamlessly with EDI 844/845/849/867 mapping, delivered out of the box, and harness the power of blockchain capability for added efficiency and transparency.
Seamless Retail Pharmacy Fee Management
Automate the calculation and payment of fees to retail pharmacies for their services and data contributions.
Ensure a smooth and transparent process that fosters strong partnerships with retail pharmacies, allowing you to focus on delivering exceptional products and services.
Streamlined Management for Healthcare Organizations
Automate formulary rebates for Pharmacy Benefit Managers (PBMs) and Health Insurance Companies. Efficiently handle Market Basket and utilization rebates for Health Insurance Companies and PBMs.
Enhance operational efficiency and accuracy while fostering strong relationships with healthcare partners.
Automate Master Rostering with dynamic address matching, ensuring accurate GPO rostering. Efficiently maintain multi-tiered contracts with automated data validations and COT (Class of Trade) assignments.
Facilitate seamless reconciliation of internal and external class of trade cross-references.
Automate Admin Fee calculation and payment, providing comprehensive details for complete transparency.
Health Systems Contract Management
Efficiently handle GPO Pass-through Rebates, calculating and paying them as needed.
Maintain the complete life cycle of health systems' direct contracts, giving them priority over indirect contracts, based on predefined business priorities.
Compatible With Most ERP Solutions including